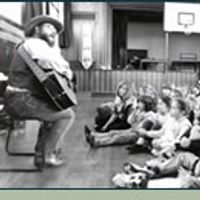 Tony Norris - Educator
Educating Children and Adults with Story and Song 

In schools, libraries, and museums throughout the Southwest, Tony weaves together bits of history, profiles of fascinating individuals, and humorous and informative stories with traditional and modern folk music and poetry. His interpretations are characterized by insight, humor, compelling imagery and solid scholarship. 
"Tony offers up stories, poems, historical accounts, tall tales, and songs in a tantalizing blend of education and entertainment. It holds my interest in a way that a presentation of any one form can't match. If you close your eyes while listening to Tony's account of the prized camp cook, you can hear the clanging of the old dutch oven, smell the cook fire, and taste the beans, beefsteak, and biscuits, along with the occasional pie or cobbler. With sure strokes, he places each song or poem into historical context." 

— Phil Heikkinen, Director, Show Low Public Library
2004 – 2005 School Appearances ››
Elderhostels
After a long day hiking the Grand Canyon or exploring Indian ruins, Tony's humorous and historical stories and mellow songs provide a perfect close to the evening. He is a favorite at elderhostel programs conducted through Northern Arizona University and Yavapai College in Prescott. 
Telling your Story of the Land Workshops
As past folklorist for Northern Arizona University's Center for Sustainable Environments, he performed concerts throughout the Colorado Plateau and led workshops with author Gary Paul Nabhan which involved ranchers and farmers in telling their "Stories of the Land." Venues include the National Cowboy Poetry Gathering in Elko, NV, "Sheep is Life" Conference in Ketchum, Idaho, and at the University of North Texas.
Overland and Waterways Programs
Along with New Mexican entertainer and songwriter, Sid Hausman, Tony presents a musical historical overview of the transportation and trails of the Old West. The program has been featured by Glendale Public Library, AZ; Henderson Parks and Recreation, NV; Yuma Territorial Days, AZ.